If you're planning to shortlist some of the best new developments for investment or a vacation home in the Cayman Islands, make sure to include these properties recommended by our ERA Cayman real estate experts, Richard Newton and Selene Oddenino Newton, who are not only CIREBA-accredited real estate professionals but also experienced property managers and investors as well.
Richard moved from Yorkshire to Cayman almost three decades ago and had initially worked in the tourism sector. After buying his first property in West Bay in 2003 and managing the condominium where he lived for many years, he became increasingly drawn to the real estate industry and eventually became a licensed professional.
Meanwhile, Selene moved to Cayman in 2019 and fell in love with the islands at the same time she met Richard. She says that she inherited her passion for property investment from her father, whose five decades of success in the business inspired her to pursue her own career as a real estate professional.
"We made our dreams come true living in Cayman and building our future step by step," says Richard. "Now we are here to help our clients make their own dreams come true."
Ready to chase that dream? Let's check out their expert picks.
A quiet, suburban oasis in The Shores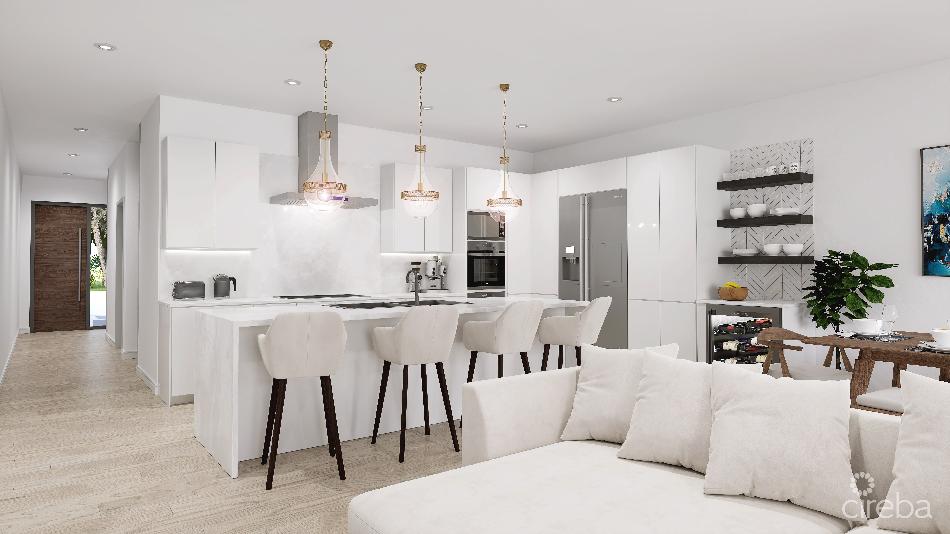 The Salt Air Townhomes in the West Bay area comes highly recommended by Richard, as he calls to mind his own experience in property investment. "I bought my first home in West Bay about 20 years ago and have seen countless new developments come up over the years," he points out. "West Bay is definitely one of the best areas to invest in. Thanks to the highway, you reach Seven Mile Beach and George Town in the blink of an eye!"
Salt Air is a cluster of 18 townhouses located within The Shores, an exclusive and highly regarded gated community in West Bay.  Featuring multi-level residences that come  with a host of amenities, Salt Air presents a stunning opportunity to invest in a brand new, modern townhome just minutes away from the Seven Mile Corridor and Barkers Beach National Park.
Available in January 2024, Salt Air Townhomes offers a selection of 2- or 3- BR + Den and 4-bedroom units that feature open living spaces and sleek architectural details that are designed for a perfect harmony of indoor/outdoor living. Residents will enjoy exclusive access to several amenities such as private tennis courts and boat ramps, a lounge and pool, an on-site fitness center, and a family- and pet-friendly park within the gated community.
South Sound's dwellings of distinction
Meanwhile, if your idea of luxury island living is where stunning beach views meet smart technology, Selene highly recommends Q, South Sound Luxury Lifestyle Townhouses, which is targeted for opening in Spring/ Summer 2025.
"There will be 22 townhouses designed to be pure expressions of luxury and intelligent technology, blended with breathtaking views of the deep blue ocean," describes Selene. "It's a new development that will project us directly into the future!"
Located within a gated community in South Sound, the Q residences come in meticulously planned 2 Bed/ 2.5 Bath configurations. An exceptional feature of each unit is the two-vehicle garage on the main level, where you will find hi-tech washer and dryer units, a utility sink, cabinets and storage areas, as well as ample space for your bikes, paddle boards and kayaks.  Amenities include access to two swimming pools, a gym, cabanas and barbecue areas — plus 200 feet of beach directly across the street reserved for Q owners and their guests.
Residents will also take great comfort in the fact that living spaces will be approximately 15-feet above sea level and will feature hurricane-rated doors and windows.
Big on luxury in Little Cayman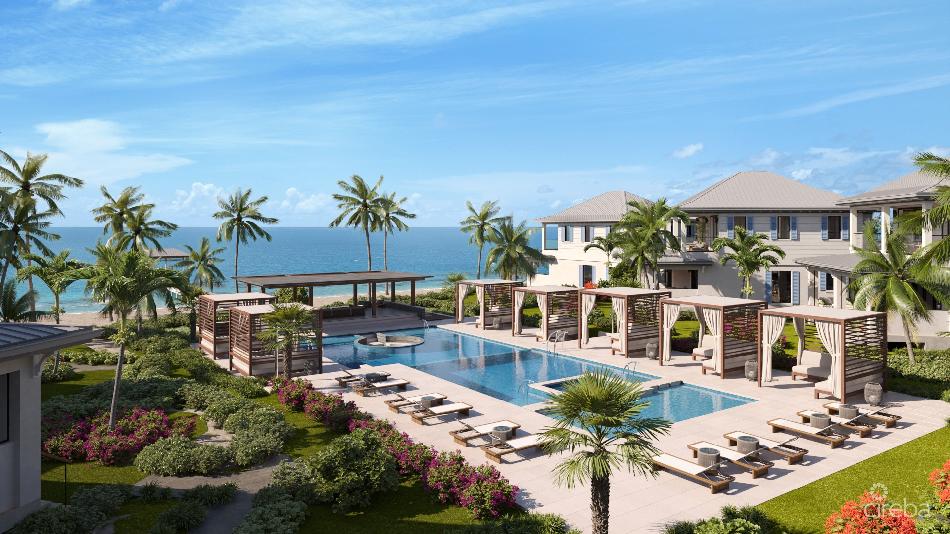 Meanwhile, if it's the quaint and quiet charm of the islands that appeals to you, then Selene definitely gives her two thumbs up to the MAREA, a cluster of 10 beachfront villas that promise to bring you the ultimate island luxury experience while living your best life in the serene paradise that is Little Cayman.
"The MAREA villas are designed to be modern, luxurious, and extremely comfortable," says Selene. "They will provide many amenities to leave space and time for guests to fully enjoy their dream come true."
Expected to be ready in the next 18-24 months, each villa comes with three bedrooms and a bunk room/office, providing ample privacy and space for families of all sizes. Amenities will include an expansive pool with fire pit, a private dock, electric vehicle service and e-bikes, paddleboards and kayaks, and a fitness center.
Residents and their guests can also avail of bespoke concierge services, pre-arrival grocery delivery, housekeeping and laundry services, as well as room service.
If any of these recommendations caught your eye, or if you want to explore more options vetted by our team of real estate experts, ERA Cayman will be more than happy to assist you.
Inquire for More Information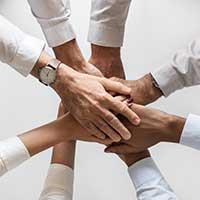 ERA Blogs are written in-house. It is a team effort and we all contribute our ideas and suggestions. ERA is a diverse Team of Real Estate Agents who each have specialties. We have Seven Mile Beach Real Estate Experts, Beachfront Real Estate Experts, Commercial Real Estate Experts and everything you could possibly need when looking for a Real Estate Team. The blog is summarized and submitted by ERA's Web Team.