Queen's Highway Real Estate
Delight in the new discoveries of this quiet corner of Grand Cayman. Known for its unmatched diving and water sports, there are several housing options to choose from for a buyer who is looking to enjoy the natural beauty of Cayman.
Whether you want a beachfront condo to buy as a second home or are looking for something more substantial, Queens Highway offers a charming alternative to the more populated areas of Grand Cayman. While getting away from it all is appealing, this area is home to two well-known resorts, a handful of restaurants, and a small grocery store, making it easy to enjoy the conveniences of a delicious meal and the pampering of a great massage a short walk from your quiet retreat.
If exploring Grand Cayman is more your style, hop in your car for a short drive to the Wreck of the Ten Sail Memorial, a Botanical Garden, the East End Blow Holes, and the Blue Iguana Recovery program.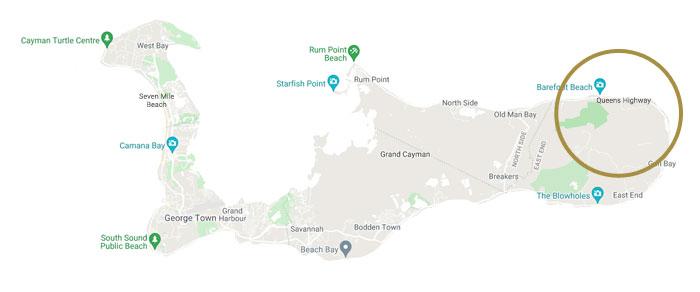 Queen's Highway Real Estate For Sale
Available Properties in Queen's Highway, Grand Cayman
Queen's Highway Neighborhood
Queen Elizabeth II and her husband Prince Phillip officially opened the Queen's Highway during their visit in February of 1983. The northeast coastline is an expansive stretch of land offering majestic oceanfront views and constant tradewind breezes connecting East End to North Side. Elevated and reef protected this trek of land has its own beautiful sandy beach cove with its own 450 foot wide entry to open ocean waters.
The Maritime Trail leads visitors to a viewing platform where you will find the Wreck of the Ten Sails Memorial. This site was dedicated by Queen Elizabeth II and her husband Prince Phillip during their visit in 1994 marking the 200th anniversary of this historick shipwreck.
The Queen's Highway coast is dotted with many waterfront Million Dollar homes. This area has been slated for tremendous growth in the near future. Aerial views are now available via helicopter tours.
The Silver Thatch Palm, exclusive to the Cayman Islands, is plentiful and seen in many landscapes throughout the island. The Silver Thatch Palm is best known as the National Tree of the Cayman Islands
The Northeast Coast of Grand Cayman is known for being home to the tranquil, more serene side of life in Grand Cayman. Located approximately 45 minutes from George Town, many seek the northeast coast to escape the bustling tourist atmosphere and "get away from it all." Two large scale resorts and a shopping plaza bring all the necessities of life close at hand, while also housing a grocery, lovely italian restaurant, and a Wine and Spirits shop.