Savannah / Lower Valley Real Estate
Only a 20 minute drive from George Town, this area has become increasingly popular with families as it offers larger, more affordable properties with outside space and quiet neighborhoods. With an easy commute along the East-West-Arterial Road you will come through some lovely areas lined with trees.
There are many restaurants, take-aways and other local amenities in this area, making it appealing for convenience. Cimbocco/Chicken Chicken recently opened a restaurant here also.
Countryside Shopping Village which is located in this area, includes a Foster's supermarket, CNB bank, large pharmacy, medical clinic, liquor store, hardware store, gym, veterinary clinic, dry cleaners and a few other smaller stores.
If you have children, this is also a great location for schools.
Property in this area can be a mixture of single family homes, land for sale and also ocean view lots on the rocky shores.
You are not far from the beaches of Spotts and Lower Valley. There is also a wonderful tourist attraction at Pedro St James which offers a historic tour of this home and also now offers an ocean view bar and grill for those happy hour drinks.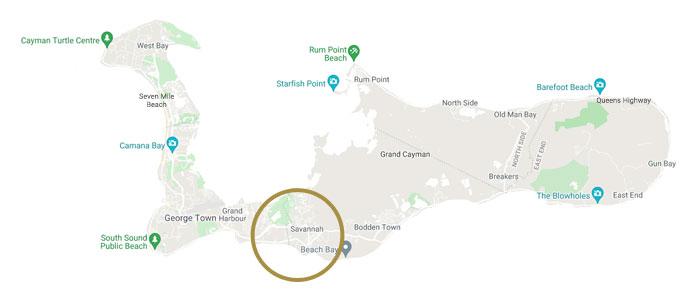 School in this Neighborhood
Joanna Clarke Primary School (previously Savannah Primary School)
Savannah / Lower Valley Real Estate For Sale
Available Properties in Savannah / Lower Valley, Grand Cayman
Savannah / Lower Valley Neighborhood