South Sound is one of the most popular neighborhoods in Grand Cayman. Featuring a charming mix of single family homes and luxury condominiums – South Sound has something for anyone. Real estate can be found inland in quaint safe neighborhoods or right on the beach overlooking the ocean.
What's The Vibe Like?
South Sound is a great place for families and young professionals alike. Due to its closeness to George Town, the ocean and schools it is a popular choice for locals and tourists alike. On a trip through South Sound you'll see cyclists and joggers as well as people coming to utilize the Cayman Islands Rugby Club and the Tennis Club. There are coed soccer and Gaelic football leagues and there is always something to do. The people in the area are extremely friendly and can often be seen chatting during their evening walks with the family dog or baby in the pram. Additionally, there is a public park nearby, a public dock and a ramp to launch your boat if you're a water enthusiast. Kite surfers can be seen from the boardwalk when the wind is right for them to take to the water.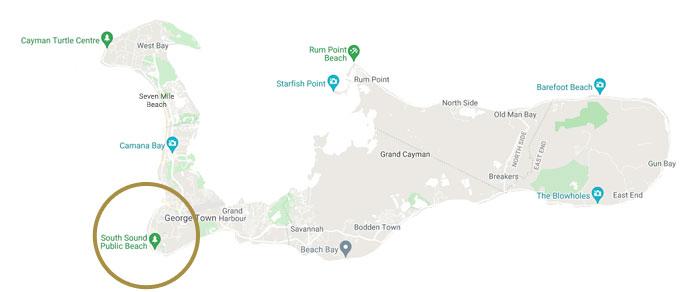 School in this Neighborhood
South Sound Real Estate For Sale
Available Properties in South Sound, Grand Cayman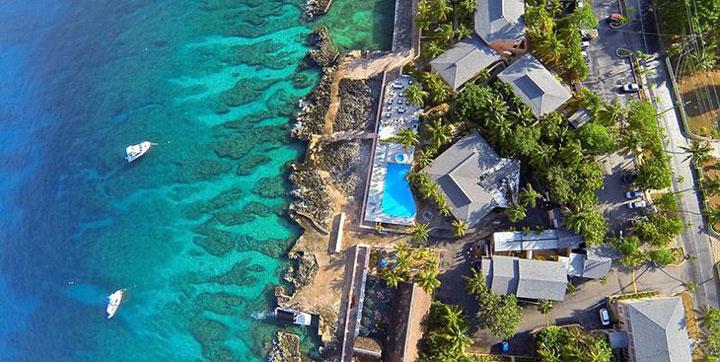 There are also lots of activities going on throughout the year at the South Sound Community Center. South Sound is also the perfect area for sea turtles to lay their eggs and the community has banded together to make sure that their natural habitat is not damaged by the sargassum blooms or by new and existing development. Consuelo's Beach is a popular place to hang on a sunny day and Smith Cove is widely regarded as a national treasure and the government has gone to great lengths to protect this unique beach and its surrounding environment. Another place you simply must visit is Pure Art – a charming "Cayman Style" house that has been converted into a quirky shop where you can find all types of original Caymanian artworks and souvenirs.
South Sound feels more "local" than the nearby Seven Mile Beach or some of the other districts that cater mainly to tourists and visitors. When you're in South Sound you feel like you are in the "real" Cayman. One thing that you should be aware of – the rush hour traffic can be really congested. If you are hitting the area when the schools or churches let out a 5-minute drive from town can quickly turn into an hour-long journey. That's island life for you though Bobo and it's a small price to pay to live in paradise!
South Sound Real Estate
As stated previously, there is a wide range of property options in the South Sound district. If you want a 48,000 square foot $50 million dollar mansion – South Sound has you covered. If you want a waterfront luxury Art Deco condo – all you need to do is look to the FIN development. Single-family homes and starter condo residences are in abundance in the district. Currently there are 123 property listings available for immediate sale according to the MLS. They range in price from just under fifty million dollars all the way down to $95,000. Of these CIREBA listings – there exists a mix of sprawling mansions, single-family homes, condos, commercial spaces and land offerings. You can have a turnkey home or a piece of land to build your dream house. You can be on the water or in a neighborhood setting. It really just boils down to your personal preference. Purchasing real estate in South Sound has historically been seen as a good investment. This is reflected in the fact that there is strong market demand to live in the district and property prices in South Sound have been steadily rising over the years. Many folks choose to live in South Sound and work remotely and the government has programs to allow people from overseas to accomplish just that.
South Sound is an extremely popular place to live on Grand Cayman for these and many other reasons. Real estate opportunities exist aplenty so if this district seems like the perfect fit for you and your family it is recommended that you reach out to the friendly and knowledgeable real estate professionals at ERA Cayman to learn more about the market and what homes will fit your unique needs. They are standing by seven days a week to assist. Living in South Sound is just a phone call or an email away. Or, if you prefer, you can stop by the office Monday through Friday and speak to an agent in person. We look forward to hearing from you!
Located just south of George Town, South Sound is a family friendly and convenient place to call home, with beautiful single-family homes that are close to schools and to businesses. Tree-lined properties—some with water views and some with beachfront access—make up this desirable established neighborhood.
There are many local amenities to take advantage of including easy access to local schools.  There is also a community pool and sports grounds.  For those commuting to town for work, it is a quick drive away.  Grocery stores and other shopping options are close-by. On the weekends, it is just a short drive to the amenities and activities found along Seven Mile Beach. You can find some lovely quiet beaches in the South Sound area including the cove called Smith's Barcadere or Smith's Cove.
Known for its friendly, safe community, South Sound makes a great investment for those who work in Cayman and want the convenience of a centralized location with the charm of a local neighborhood.