Cayman Kai is widely recognized as the "quiet side" or "Island-y side" of Grand Cayman. If the hustle and bustle of George Town or the magnitude of the properties on Seven Mile Beach just doesn't hit the spot for you then the tranquil seclusion of Cayman Kai is just what the doctor ordered. About a 45 minute from the airport – you'll be in a hammock relaxing with a mudslide in your hand watching the waves roll in…
Things To Do in Cayman Kai
Although it is much quieter than most of the other districts, Cayman Kai offers plenty of thing to do (provided you don't just want to relax of course). There are stunning secluded beaches and vistas to explore featuring mature palm trees and the squawking of Cayman's famous green parrots. There are plenty of opportunities for boating, kayaking, upright paddle boarding and of course swimming. The bioluminescent bay is one of the few places you can swim in the world where the water lights up with living organisms creating a surreal light show as you and the wildlife swim through.
Cayman Kai / Rum Point Map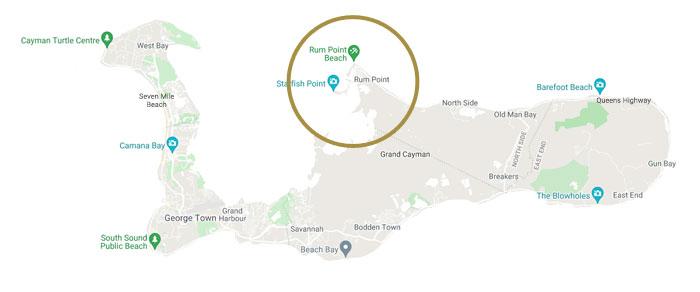 Cayman Kai Real Estate For Sale / Rum Point
Available Properties in Rum Point, Grand Cayman
Rum Point / Cayman Kai Neighborhood
Tours are available for this in the evenings and it is a once-in-a-lifetime experience. Stingray City is also a rare and unique opportunity to interact with ocean life just off the shores of Cayman Kai in the north sound. Stingray City is actually a shallow sandbar where visitors can handle stingrays, feed them and interact with fish and whatever other animals that happen to be passing through. If you're really lucky, you might catch a glimpse of a reef or hammerhead shark cruising up from the depths.
There many tour operators that offer tours several times a day. Another must see are the Cayman Crystal Caves. These are naturally occurring caves that feature tours to view the stalactites and the stalagmites. There is also a small underwater lake in the main cave though this is one of the few places in Cayman that you can't swim. The caves are about a 10-minute drive from Cayman Kai. Go a wee bit further and you can see the native blue iguanas and various other flora and fauna at the Botanical Park. You can also witness starfish in their natural habitat in Cayman Kai.
Just be mindful that you should never remove them from the water as it harms the animals. You can pick one up gently for a quick photo but you must not let them breach the surface and you should be very gentle when you place them back in on the seafloor. Getting hungry after all of this or just working up an appetite in your hammock? Head on over to the Kaibo Yacht Club where they feature island food and drinks as well as brick oven pizza and a coffee shop.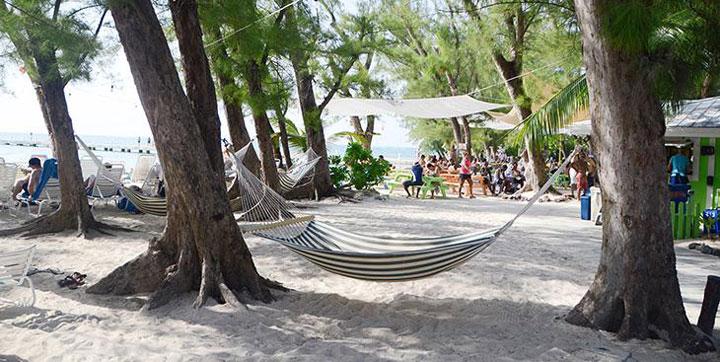 For special dinners you can reserve a table upstairs for a fine dining experience you're sure not to forget. Rum Point also has tons of activities and a beach bar and is a great place to spend a day. They too have a fine dining restaurant that is open in the evenings and the whole property is undergoing an extensive renovation/updating. They also have long pier where sailboats come and go and visitors take leisurely strolls taking in the picturesque setting.
Real Estate and Homes for Sale in Cayman Kai / Rum Point
The real estate in Cayman Kai is some of the most desirable  and sought-after in the Cayman Islands. It is predominantly made up of single-family beach houses and larger villas though condos can be found in places like the newer Rum Point Club and at the two phases of the Kaibo condos. The Retreat also has condos. Raw land is available as well but it is becoming scarcer year after year. There is not much by the way of mixed use or commercial land to speak of – though occasionally some land will come to market with a designation such as "hotel/tourism".
Many of the residents live in Cayman Kai year round but the majority of the homes are vacation homes or rentals that the owners let out to arriving guests. Locals that live in the other districts will also take "staycations" in Cayman Kai for the holidays or as a special chance to get away from the faster pace of life in town. Currently there are 59 listings in the Cayman Kai area ranging from $15 million dollars down to $80,000. Cayman Kai properties have been trending steadily upward in price over the years and that trend is expected to continue for the foreseeable future.
Being in Cayman Kai makes you feel like you are on a genuine Caribbean island. The beach houses and general feel harken back to a simpler time and you may find yourself feeling like you're in a Jimmy Buffet song. It's a much slower pace and the properties are gorgeous. Contact ERA Cayman islands real estate professionals today to learn more how you can get yourself a true slice of paradise in Cayman Kai.
Miles of white sand beach, warm, crystal-clear water, and friendly neighbors are some of the reasons Rum Point and Cayman Kai continue to be popular communities for those looking to get away from it all.
With canal-facing villas and beachfront properties to choose from, there's no shortage of attractive options in this tropical oasis. Spend the day out on the water at Stringray City, reading a book in your private hammock, or soaking up the sun on your private dock. At night, leave your car in the garage and walk to dinner at Rum Point, where everything from laidback burgers and fries to culinary cuisine awaits.
Rum Point and Cayman Kai make the perfect destination for purchasing a private luxury home or vacation property. Yet, it is less than an hour drive to Owen Roberts International Airport and all of the amenities of George Town. Or, simply walk on the ferry that brings passengers between Seven Mile Beach and Rum Point for a quick trip into town.