Gearing up for a great escape to the Cayman Islands? Chances are, you've set your sights on spending your holiday somewhere near the sparkling blue waters and powdery white sands of Seven Mile Beach.
Situated on the western side of Grand Cayman, Seven Mile Beach is perennially ranked among the best beaches in the world, making it a top attraction for tourists and holidaymakers from around the globe.
Needless to say, most of the luxury resort hotels and condos are built around the SMB area, offering first-class accommodations to guests who want to indulge in all the conveniences of modern life while enjoying the natural beauty of a tropical paradise.
If you're still scouting for the best place to stay on Seven Mile Beach for your Cayman holiday, allow us to offer a few surefire suggestions.
Luxury hotels and resorts on Seven Mile Beach
Seven Mile Beach is home to some of the most luxurious and well-appointed living spaces in the Caribbean, with a diverse selection of properties — from top international hotel brands, to newer but similarly upscale boutique resorts.
If your idea of a Cayman holiday includes sumptuous dining, swanky accommodations, top-of-the-line amenities and dedicated hotel personnel that will cater to your every whim and fancy, then check out these recommendations below: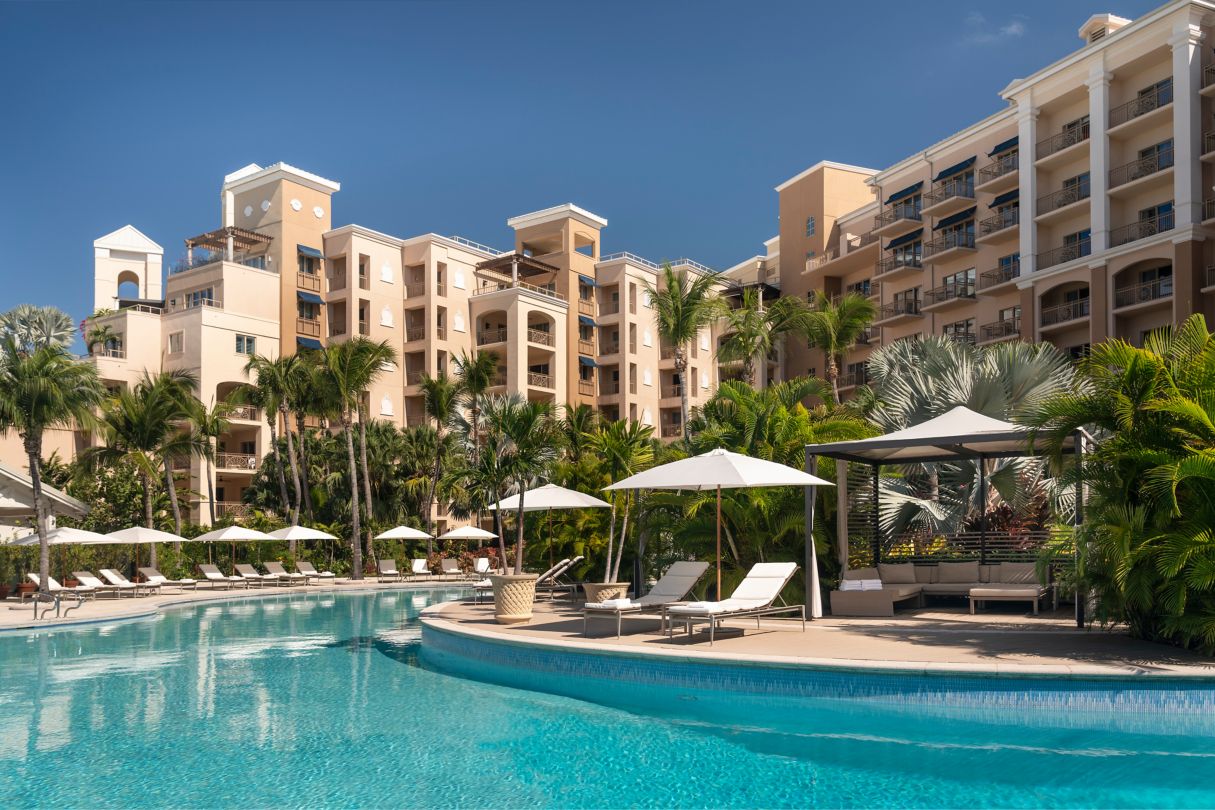 The Ritz Carlton
Steadfast to its brand commitment to inspire life's meaningful journeys, The Ritz-Carlton Grand Cayman is where you can leave all cares behind as you immerse in luxurious island living, inspired by Cayman's own natural and cultural wonders.
The Ritz-Carlton offers 24 fully furnished, two- and three-bedroom residential suites, each with en suite bathrooms, fully equipped kitchens and spacious balconies that allow generous lighting and panoramic views to greet you every day. Clearly the best choice for families looking for more expansive living arrangements, guests at the residential suites also have access to a 24-hour dedicated concierge, personal assistant service, and even pre-arrival grocery shopping.
Meanwhile, culinary options at The Ritz-Carlton Grand Cayman offer an unforgettable array of epicurean delights that include Caribbean, American, Italian, and Japanese-inspired dining options, as well as the Caribbean's only AAA Five-Diamond restaurant, Blue by Eric Ripert, where the world-renowned chef presents his masterful creations using local seafood and exquisite wine pairings.

The Westin Grand Cayman Seven Mile Beach Resort & Spa
From its stunning location overlooking the iconic Seven Mile Beach, The Westin Grand Cayman Seven Mile Beach Resort & Spa evokes the dream of a luxurious island paradise, letting you know that  you are truly in the heart of Grand Cayman.
Each of its newly renovated guest rooms offer luxury and comfort, exuding Caribbean elegance and highlighted by spacious patios and balconies that open to lush tropical island views or stunning oceanfront vistas.
Its wide selection of restaurants are sure to keep you delighted from breakfast to dinner, including visits to a coffee house and tapas bar in between. Of course, you can't miss out on the wellness experience. Aside from spending glorious days on the beach or basking by the poolside, don't forget to schedule some "me time" for a pampering visit to the Hibiscus spa or an invigorating workout the 24-hour WestinWORKOUT® Fitness Studio.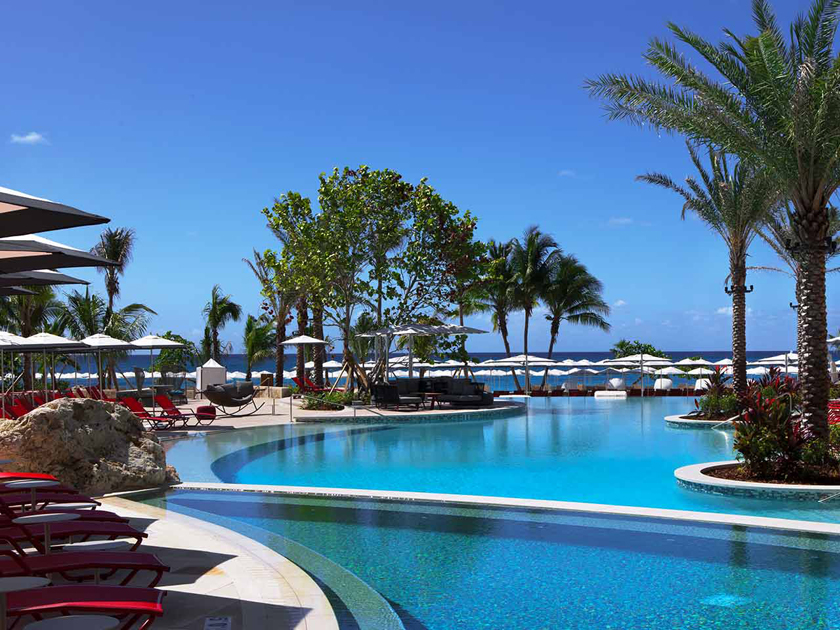 Kimpton Seafire Resort + Spa
Given a gold badge by US News & World Report for topping the list of its "Best Hotels in Cayman Islands" for 2023, the Kimpton Seafire Resort + Spa is magnificently perched  24 feet above sea level, treating its visitors to unparalleled views of clear turquoise waters and sun-bleached sands — even from the first-floor living room.
Each of its 264 family-friendly guest rooms and specialty  suites offer ocean views through floor-to-ceiling windows, and all have private balconies that open to a fresh burst of sunlight,  sea breeze and amazing island colors.  Five restaurants that cook up a variety of fresh, local cuisine are available to keep hungry tummies satisfied, morning, noon and night.
Families or groups who prefer a more secluded vacation hideaway can choose from three well-appointed beachfront bungalows, each with its own spacious living room, dining area, and luxury kitchenette.
Condos with on-site property managers
There are also holidaymakers who prefer more freedom and flexibility during their break, especially those traveling in groups with family and friends.
Within the Seven Mile Beach area, you can find a wide array of professionally managed resort-condominium complexes that provide posh living spaces completely furnished for your daily needs. Many of these condos and villas are beautifully set on beachfront properties, making them excellent alternatives to a hotel stay.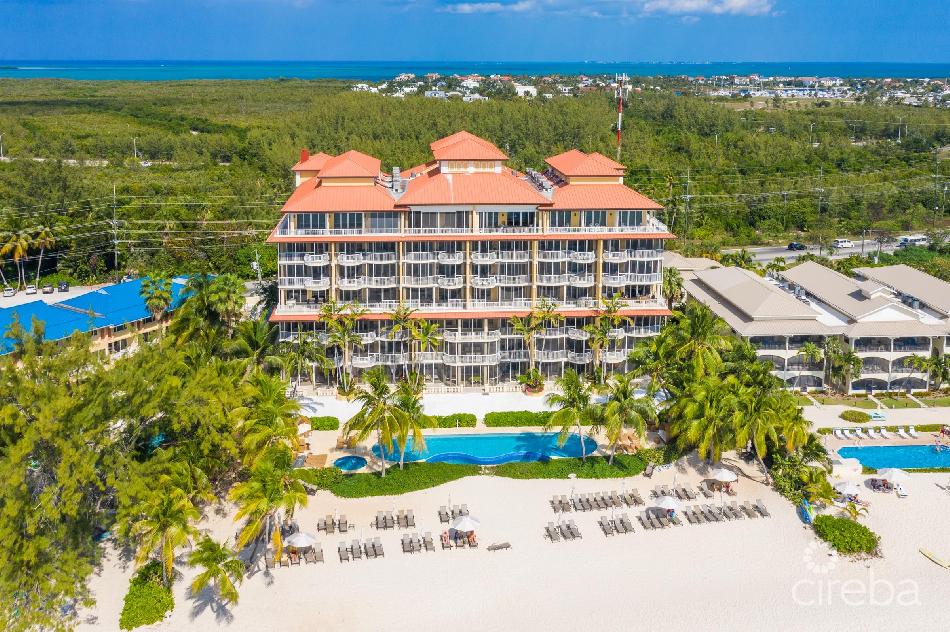 The Renaissance Cayman Villas
Strategically located at the northern end of  Seven Mile Beach, away from the crowded main tourist areas, The Renaissance Cayman Villas offers top-of-the-line beachfront  vacation rentals that exemplify the ultimate in Caribbean self-catering luxury accommodation.
The Renaissance features a selection of 2- to 4-bedroom oceanfront villas, each one fitted with a large screened patio that's perfect for sunbathing, gazing at the azure waters,  watching spectacular Cayman sunsets, or even a romantic moonlit dinner for two! All villas also come with central air-conditioning and ceiling fans to keep guests cool and comfortable any time of the day, as well as a laundry and storage room with a full-sized washer and dryer. Internet access is provided and calls to the US and Canada are free.
Guests at The Renaissance also get to enjoy the property's exclusive amenities, including its 85' infinity pool with hot tub, an ADA compliant pool lift, fully equipped barbeques with patio chairs and tables, and an assigned parking garage for each villa. An on-site office is ready to provide assistance, while daily housekeeping and grocery shopping services are also available.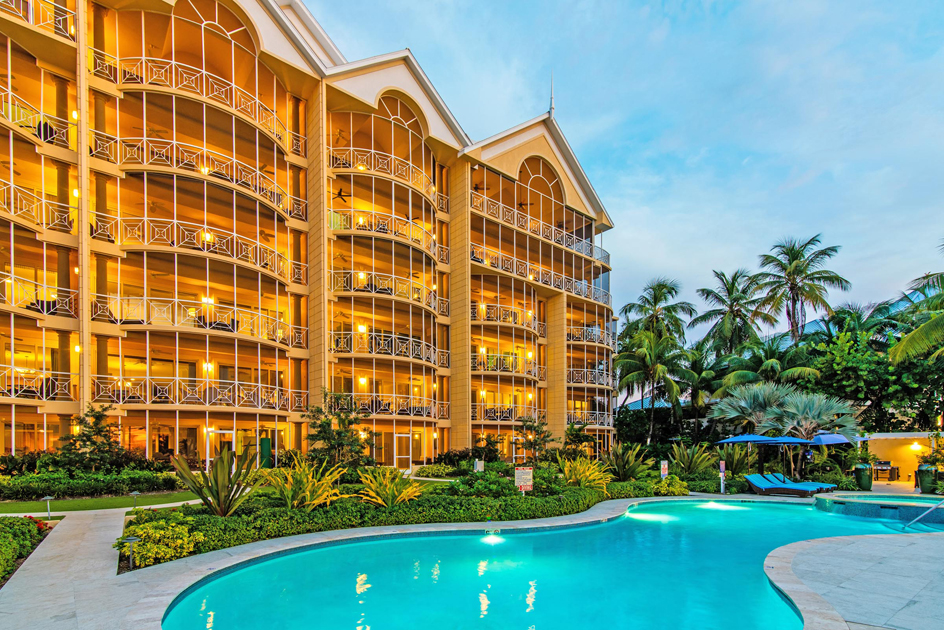 The Meridian 
The Meridian is a collection of 32 oceanfront luxury villas located in the heart of Seven Mile Beach, each overlooking 200 ft. of powdery white sand and a seemingly endless stretch of azure waters.
The villas in The Meridian's rental program are housed in an elegant six-story building. Each accommodation features central air-conditioning, ceiling fans, en suite bathrooms, as well as fully-equipped kitchen and laundry areas. On-site amenities include a large oceanfront infinity pool with heated jacuzzi, picnic areas with barbecue grills, and a fitness center with cardio equipment and free weights.
Just across the street, guests can find several fine dining restaurants within walking distance, as well as a grocery store, a liquor store, and duty-free shopping. Underground parking is available with elevators to each floor. All villas have free internet access, and calls to the USA and Canada are also free.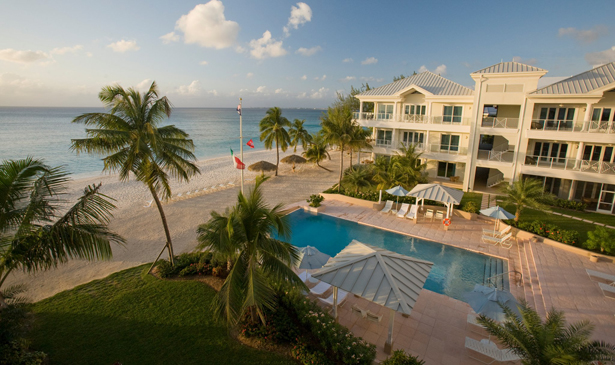 Caribbean Club
An exclusive beachfront boutique hotel, the Caribbean Club is a staycation haven comprised of 37 luxurious suites and villas, with your choice of 1, 2 or 3 bedrooms. Each accommodation features a spacious living room, a fully equipped gourmet kitchen, and a charming balcony overlooking Seven Mile Beach. The oceanfront villas also offer wrap-around patios where guests can walk out directly into the beach.
Family-friendly recreational amenities include an outdoor pool and a children's pool, plus an on-site restaurant and all-day fitness center. The front desk is open 24 hours, while concierge services and daily housekeeping are also available.
Aside from being a mere two-minutes' walk from Seven Mile Beach, the property is also near other places of interest such as Camana Bay, Governor's Beach, a mini-golf park, and a major shopping center. Several restaurants, cafes and juice bars are likewise within easy reach.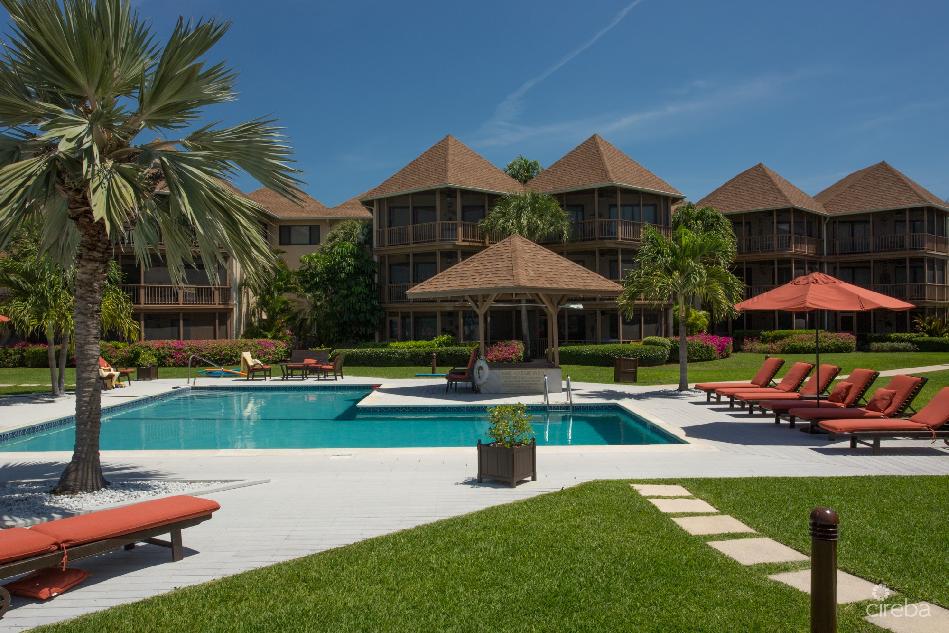 Plantana Condominiums  
A well-loved Cayman holiday destination, Plantana is currently undergoing renovation and is closed for rentals until the end of October 2023. However, it is accepting reservations for Fall and Winter, onwards.
This tropical beachfront complex features individually owned condos, with a choice of ocean view or garden view units. Each unit is fitted with air-conditioning and ceiling fan, a screened lanai, a fully equipped kitchen, and free high-speed Internet.
Within the property, guests can enjoy a private pool and deck surrounded by landscaped tropical gardens and expansive lawns, as well as barbecue grills and picnic tables for outdoor dining. By the beach, there are poolside chairs and chaise lounges, hammocks, and the natural shade  provided by mature Casuarina pines.
Other vacation rentals
Still considering other options for your home away from home on the Cayman Islands?
A quick check on popular online service such as Airbnb and VRBO will lead you to scores of available properties being rented out by their owners.  This way, you can get the size and location that is right for you, as well as the kind of amenities that you really need for your stay.
Since you will be dealing directly with the property owner, make sure you are very clear about the price, the mode of payment, cancellation policies, and other nitty-gritty things that need to be sorted out before your arrival. It also helps to check out the reviews and to prioritize owners that have been ranked as super or premiere hosts.
Here's a tip: Many property investors in Cayman put their beautiful vacation homes to good use by renting them out while they are away. This is a really great way to generate profit for owners, whether they be for short-term or long-term rentals.
If you are looking at investing in Cayman real estate with the intention of entering the rental market, our expert team of professional brokers and agents at ERA Cayman will be more than happy to assist you.
Welcome to Cayman and have a great stay!
Inquire for More Information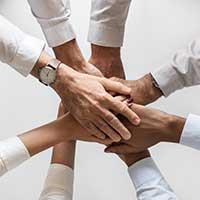 ERA Blogs are written in-house. It is a team effort and we all contribute our ideas and suggestions. ERA is a diverse Team of Real Estate Agents who each have specialties. We have Seven Mile Beach Real Estate Experts, Beachfront Real Estate Experts, Commercial Real Estate Experts and everything you could possibly need when looking for a Real Estate Team. The blog is summarized and submitted by ERA's Web Team.