We are happy to announce that the Cayman Islands Government has allowed Real Estate offices to start property showings.
Our Offices at #4 Galleria Plaza will be open from 9am to 1pm starting Wednesday June 3rd, 2020. If you wish to meet with an agent, please make an appointment by emailing us at info@eracayman.com or calling +1 (345) 945 6000 so we are able to limit the number of people in the office to ensure social distancing.
The Cayman Real Estate Industry is part of the phased reopening and we will be following all the Government health and safety procedures for COVID-19  This must include all members of the public wearing masks when visiting our offices or meeting with an agent at a viewing. The mask rule is no longer in effect as of January 18, 2021.
Coronavirus Update June 2020
As of June 7, 2020 below are the following rules
In Grand Cayman:
Hard Curfew in place from 10pm to 4.30am
Soft Curfew or Shelter-in-Place from 4.40am to 10pm
Ban on public gatherings
No meetings for 6 people or more excluding hospitals, pharmacies and grocery shops
Fine of up to CI$ 1,000 or 6-months in jail for violation of these rules
Social distancing in place, individuals have to remain 6-feet from others in public places
Educational facilities are closed
Face masks required in all indoor and outdoor public places
Public Transportation can operate with a 50% capacity
Taxis can operate with a 2-passenger capacity
Restaurants and Bars can only operate Outdoor dinning and limited capacity (with additional restrictions)
Inter-island travel is allowed for essential travel and medical emergencies.
The Airport is closed to public travel until further notice, couriers, cargo flights and air ambulances, for obvious reasons continue operations.
Please note the rules are different for Cayman Brac and Little Cayman as they have little to no occurrence of Coronavirus. In Little Cayman, in particular, none of the curfews are in place.
Coronavirus Background in the Cayman Islands
Below is a bulleted timeline of Coronavirus in the Cayman Islands
March 16, 2020 CI Government closed sea borders to all cruise and private yachts
March 16, 2020 Restricted all land entry to all countries from China, Iran, Japan and South Korea
March 17, Cayman becomes first British Territory to conduct domestic Coronavirus Testing
March 22, 2020 Full Border closure
March 23, 2020 Digital dashboard was launched to provide detailed tracking of positive cases
Arrivals from repatriation flights required to self-quarantine for 14 days
April 7, 2020 first repatriation flight from the UK
April 10, 2020 Cayman provides 20,000 polymerase chain reaction (PCR) test kits to Barbados, at cost
April 15, 200,000 covid-19 test kids purchased from South Korea made possibly by private individuals and local philanthropists
April 24, 2020 Coronavirus Testing Capacity Increased with Labs coming online
April 30, 2020 52,000 nasopharyngeal swabs arrived in Cayman, an additional 100,000 arrived shortly after
May 11, 2020 Drive through testing facilities become operational. Results guaranteed within 30 – 45 minutes.
It's safe to say that the Cayman Islands Government has been doing an excellent job at keeping the Cayman Islands as safe as possible during these unprecedented times.
As for us in the Real Estate Industry, we have all been working from home, and we will continue to do as much as possible 'virtually' but starting on June 3rd, a few of us will start working from the office. We look forward to your visit!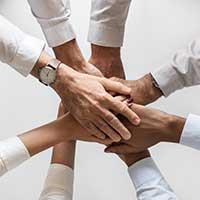 ERA Blogs are written in-house. It is a team effort and we all contribute our ideas and suggestions. ERA is a diverse Team of Real Estate Agents who each have specialties. We have Seven Mile Beach Real Estate Experts, Beachfront Real Estate Experts, Commercial Real Estate Experts and everything you could possibly need when looking for a Real Estate Team. The blog is summarized and submitted by ERA's Web Team.