Developer Fraser Wellon, of Watercolours/Water's Edge/Stone Island acclaim, is one step closer to making his next ritzy project a reality.
Recently, The Cayman Islands Central Planning Authority granted planning approval for WaterMark. This latest rendition totes a cost of $177 million dollars and will be located next door to Harbour Heights on 7 Mile Beach. The development will be ten stories high with 54 units, a restaurant, 19 guest suites, a spa and will be connected via a flying pedestrian bridge (think Ritz) to another complex across West Bay Road.
The word around town is that several of the luxury units have already been spoken for but initial estimates will likely price the majority of people living in Cayman out of the running. Reports indicate that pricing will begin at USD $5 million dollars and range in excess of $20 million for the larger residences. One could expect that the target market for the project, similarly to Watercolours and Water's Edge, will be wealthy foreign purchasers. The project saw zero objectors in it's planning meeting and Mr. Michael Meghoo has been named as the architect. This is in stark contrast to the neighboring "Grove" development (currently under construction), which drew outrage and numerous objections from the surrounding developments. Neighboring property owners were brought in well ahead of the planning meeting to consult on the final design of the new monolithic WaterMark development. The Department of Environment, however, did raise some concerns. Namely, that removal of the beach sand ridge would cause irreparable damage to the beach causing erosion and threats to turtle nesting areas. There is also concern that this particular parcel contains massive sand reserves and that, by undertaking the excavation necessary for construction, it could undermine the beach system's ability to naturally replenish itself after storms. These sands will need to be taken away from the site as a result of the construction, which will then remove it from the system forever and they will never be able to be recovered. There was also a recommendation that, because of the turtle activity there, that "turtle-friendly" lighting be a condition for approval of the project. Additionally, D0E recommended that construction not commence until after turtle nesting season is completed at the end of November.
Once WaterMark is completed it is expected to be the island's new premier address, taking the luxury of Watercolours as the current standard for design excellence. In addition to the aforementioned amenities, the new building will have twelve different swimming pools (4 of those to be on the roof of the building), a library, owners lounge/ bar, underground parking and top of the line appliances and finishes. Across the sky bridge, residents will have a multitude of other amenities such as a yoga studio, gym and a fully functional spa. There are also plans for a restaurant on site (apparently to be open to the public) and several other support facilities for the main residences on the beach side. The land on which the new high-end luxury WaterMark complex will be built on is one of the very last vacant parcels remaining on Seven Mile Beach. This has sparked some controversy in the local media, as detractors content that there will be even less
room/access for visiting locals on 7 Mile Beach.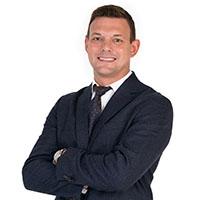 John has been working as an agent with ERA Cayman Islands for 8+ years specialising in high-end real estate, hospitality and property management. Formerly of Vail, Colorado; John has set down his roots in Grand Cayman. John holds a degree in business law from the University of Saint Thomas.