Grand Cayman: we think of it as home, but the world thinks of it as a choice travel destination.
Seven Mile Beach: we think of it as our neighborhood playground, savvy travelers think of it as one of the most beautiful beaches in the world. Do we take our beautiful island paradise for granted?
Seven Mile Beach ranks, year after year, as one of the world's favorite beaches across a wide sector of the travel industry. This year, our beloved beach has been name to two illustrious lists. Business Insider ranked SMB (our local abbreviation) one of the top 35 beaches in the world and Trip Advisor ranked it in the top 25. Our beach has also made the grade on lists as diverse as US News & World Report's 11 best Caribbean beaches, Frommer's Best Beaches in the Caribbean, and Travel + Leasure's list of Best Beaches on Earth. SMB also placed 2nd for best overall beach in a recent Travel Channel vote.
What we think of as our weekend recreation spot ranks with some of the greatest names on earth – Ipanema, Bondi Beach, Cape hatteras and the Idyllic white sand cove on Koh Phi Phi in Thailand where the move The Beach was filmed. We take a water bottle and sunglasses and amble over to our favorite beach spot on a Saturday or Sunday morning to hang out and visit with friends unaware that our little slice of heaven is making it onto yet another "best of" list.
We grab a leash and pile the dogs into the car and head to the nearest beach entrance to stretch our legs and chat with other dog lovers. We stop on the way home from work and walk out on to the sand to watch the sun set. We line up at che crack of dawn to get body marked for the annual triathlon with starts with a 1500m swim at Public Beach. We apply sunblock and meet the crew for a game of volleyball. We kick off our shoes for the full day at the office. We start drinking coffee late in the afternoon on December 31 so we can stay up until midnight to watch the waterfront fireworks show at the Ritz – complemented by dozens of other smaller fireworks celebrations visible all up and down the sweeping curve of the beach. We hold birthday parties, get engaged, go for moonlight walks, take visitors snorkeling and look for the elusive green flash on Seven Mile Beach. Do we take our beach for granted? Maybe. It doesn't really matter to us where SMB ranks on the latest list. We just know how much it means to our daily lives.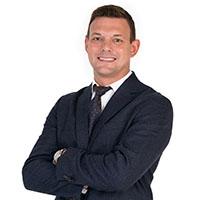 John has been working as an agent with ERA Cayman Islands for 8+ years specialising in high-end real estate, hospitality and property management. Formerly of Vail, Colorado; John has set down his roots in Grand Cayman. John holds a degree in business law from the University of Saint Thomas.