We have covered the lower end and part of the middle section of Seven Mile Beach so far, starting from Royal Palms and walking as far as the Westin. We continue from the Westin, which borders the property of the Governor's house. The Governor's residence is large, shady piece…
…of tropical heaven with a large beach. The house itself is an older West Indian styled residence with lovely but understated outdoor features, such as porticos and patios and simple tropical landscaping. It is a modest presence considering it is the seat of the UK government in the Cayman Islands. Several of the governors over the years have been keen swimmers known to take advantage of this beatuiful section of beach.
Next to the house is large empty lot known as Governor's Beach. This is a favorite spot for locals and tourists, especially on weekends. The beach along here is so lovely the nearby buildings are set far enough back from the water's edge to leave a deep section of beach for sun lovers and swimmer. Governor's Beach is the location for numerous sporting events such as open water races www.ciasa.ky and swim classes.
Beyond Governor's is a half mile stretch of condos that is one of the most popular walking stretches on all of Seven Mile Beach. Public Beach marks the far end of this stretch, a natural starting or stopping place for a beach stroll.
In actuality, each of Grand Cayman's five districts has a public beach, each with cabanas and toilet block. They are known by their district names, e.g. East End Public Beach or Bodden Town Public Beach. The one on Seven Mile is simply known as Public Beach.
Public Beach is large with numerous cabanas and a large facilities block with changing rooms and showers, picnic tables and a small playground. Public Beach is a second home to many of us who live here. There is plenty of parking, plenty of room to spread out, and plenty of options for things to do. This is also favored location for sports. Volleyball is on every weekend, the Olympic distance Cayman Islands Triathlon www.triathlon.ky is centered here, and several water sports operators have concessions here. A BBQ stand operates on weekends there's usally an ice cream truck parked in the lot. What more could you want for a perfect beach day?
Calico Jack's a small but very nice bar and grill, anchors the north end of Public Beach. The host full moon parties Koh Pha Ngan style every month. They also offer beach chairs and umbrellas and water sports equipment rentals.
Beyond Calico Jack's is the stretch of beach that used to be occupied by the Courtyard hotel. This is currently under renovation. For the time being, it is used by dive operators as a pick-up location for west side diving excursions. You'll see numerous dive boats here, and even the compressed air company truck dropping off and picking up SCUBA tanks. And just north of here is the beach front bar and grill with the prominent tiki styled roof, Tiki Beach.
There's only one undeveloped stretch of Seven Mile Beach and it begins at the edge of Tiki Beach. From here for the next kilometer is beach and sand scrub. There are short tracks from West Bay Road into the scrub and opening out on the beach for those who want a more quiet and secluded place to set up for the day. When we first visited Cayman 20 years ago, this stretch felt really remote and special. We named it Cape Trib because it reminded us of the pristine wilderness of Cape Tribulation in Australia. So when we want a quiet corner on the beach to read and play with our dogs, we head to Cape Trib.
Next installment, the far end of Seven Mile Beach including the famous Cemetery Beach and the not-so-famous Discovery Point.
Visitors watch an open water race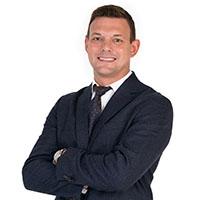 John has been working as an agent with ERA Cayman Islands for 8+ years specialising in high-end real estate, hospitality and property management. Formerly of Vail, Colorado; John has set down his roots in Grand Cayman. John holds a degree in business law from the University of Saint Thomas.