We went bicycling this morning with a friend through Barkers, the undeveloped area of the northeast tip of West Bay. It was actually a dog outing since the dogs are a good bit faster than we are, we find bicycling gives them better exercise than walking. Barkers is…
…a large area, perahps 4 square miles, of mangroves and beaches. Gravel roads run between an extensive dike system that makes the perfect place to run dogs off leash and to bicycle without having to deal with traffic.
We started at 6 am. The sun was not yet up, though it is fully light at that hour. And the winter breezes have arrived early this year, so the temperature was wonderfully cool. Of course, "cool" is a relative term. It was perhaps 80 degrees, and as soon as the sun comes over the horizon the temperature goes up. But for the first 45 minutes it was delightful cool, quiet and beautiful.
The dogs love the gravel roads, running with abandon, hunting crabs and iguanas and anything with a scent, and trying to chase the herons and egrets perched in the mangroves. Two of the three pups are ver good swimmers and usually spend as much time in the water as out. The third prefers just to get his belly wet, so plops himself down in puddles and mud and the shallow edges of the dikes. The dogs love it so much, in fact, that all three know the words "dikes, barkers" and swim" and one has even learned how to spell swim"!
We carry water bottles (the dogs know how to drink from a bottle) and leashes and somtimes binoculars. Sunday morning are the most popular at Barkers so we occasionally have to put the pups on leash if there are too many cars or other dogs. But on most other days we are the only people out there.
After about an hour we headed back to our friend's house who lives nearby. We rinse the bikes, give the dogs a good long watering and then peel down to our swimsuits to give the dogs a bath. They manage to pick up a lot of sand and gravel in their coats and the water in the dikes is brackish which would cause skin problems if not shampooed. Next week perhaps we'll go to Seven Mile Beach so everyone can swim.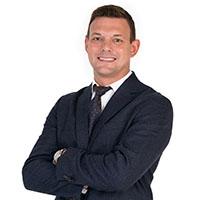 John has been working as an agent with ERA Cayman Islands for 8+ years specialising in high-end real estate, hospitality and property management. Formerly of Vail, Colorado; John has set down his roots in Grand Cayman. John holds a degree in business law from the University of Saint Thomas.