Seven Mile Beach is one of those unique features which look as good in person as they do on the travel brochures. That's why we love walking on this beach – it really is that picturesque and beautiful. We visit the beach often, and we have our favorite…
…spots, but sometimes we take this whole beautiful thing for granted. This luxury of living minutes away from one of the world's most beautiful stretches of sand and water. So recently we walked the beach with an eye toward appreciating everything that SMB (as we locals call it, or simply "The beach") has to offer.
We started at Royal Palms, one of the go-to meeting points because it has ample parking and great facilities at the Royal Palms beach bar. On Sunday mornings this is the favorite gathering spot for dog walkers. (An aside: Have you ever noticed that when dog owners congregate most of the talking is addressed to the dogs?) It's also one of the greatest views on the beach, as the full length of the West Bay bight stretches off to the right (north) ending at Dolphin Point which is a speck in the distance. The curve of the shore from this point gives a great view of the white sand mantle, the condos and hotels, the shallow light blue water, deep dark blue water, and all the activities taking place along this stretch of heaven.
As we walk north, we pass the unassuming Dart residence, an old 2-storey hotel converted to a private residence. If you didn't know it was Dart property, you might guess by the gardens – the Dart conglomerate does amazing landscaping work on all their properties. Next along are several condo properties. These are often very quiet and little used during summer months, but become busier during our high season, the winter months. Until just recently, construction on the beach was limited to 2 stories, or, no higher than the palm trees. Consequently, these lower SMB properties are small, with ample green space and beach front.
It's perfectly fine to plop down and make any stretch of Seven Mile Beach your spot for the day. Cayman follows the English tradition of the 'Queen's bum', meaning that the beach is public property to the high water mark. The lounge chairs and cabanas belonging to the condos are reserved for guest use. But you are welcome to bring your own chairs and umbrellas.
Barely noticeable in this quiet stretch are several small houses lining the end of Lizard Run Drive, on of the few beach side streets off of West Bay Road. Although they do not face the beach they are considered beach front. There are only a handful of stand alone houses on Seven Mile Beach and most are smaller older properties built in the 1970s and 1980s when land was still plentiful along the beach.
Walking further along we come to a construction site where Cayman's latest and greatest luxe condo is going up. An just next door is the Grand Cayman Beach Suites, a hotel property with many beach side services. You can pop in here for a drink or a bite to eat. Hemmingway's restaurant serves breakfast and sits waterfront with lovely views of the water surrounded by greenery. This is also one of several locations of Red Sail Watersports – the concession rents jet skis, paddle boards and other fun toys and also arranges diving, sailing and snorkeling trips. This is one of the pickup points for the wonderful 2-hour sunset cruise aboard their 65′ catamaran.
We've come a half mile already – still several miles to go. Next along is another series of older private condos. This stretch of beach has numerous Casurina trees, also known as Australian pines. (Historical note: Grand Cayman is such a low lying island that early sailors had trouble spotting it from far off. The Casurina can grow 65 to 100 feet tall, much higher than the native coconut palm. So Casurinas were imported and planted on the beach to give the shoreline a higher profile, making the island easier to see from a distance.) In the early morning, these trees cast a thin dappled shade on the beach and out into the water. Need I say it is quite picturesque? This being the tropics, the shade is gone by 9am and sun-shy visitors reading on their lounge chairs head indoors.
The first of the high-rise condos is next, the Caribbean Club. Laws were changed in 2003 allowing beachfront condos to go to 7 stories (which is mid-rise for the rest of the world, but high rise for us). Several condominium complexes chose to tear down and rebuild. So the landscape of the beach is a mix of roof lines. The Caribbean Club has a distinctive horseshoe shape with large nautical flags in the courtyard.
And just next door is one of only 2 large mansion style homes on Seven Mile Beach. This one is large and elegant without being flashy. Its curb appeal from the beach side is actually nicer than its face on the road side. It's a beautiful property that blends in nicely with the many facets of Seven Mile Beach.
At this point, we step into the water and float for a few minutes to cool off. We then discreetly "borrow" a shower from a nearby condo,take a sip of water and start walking again.
To be continued.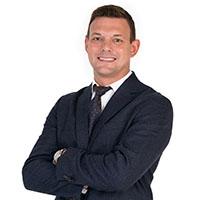 John has been working as an agent with ERA Cayman Islands for 8+ years specialising in high-end real estate, hospitality and property management. Formerly of Vail, Colorado; John has set down his roots in Grand Cayman. John holds a degree in business law from the University of Saint Thomas.