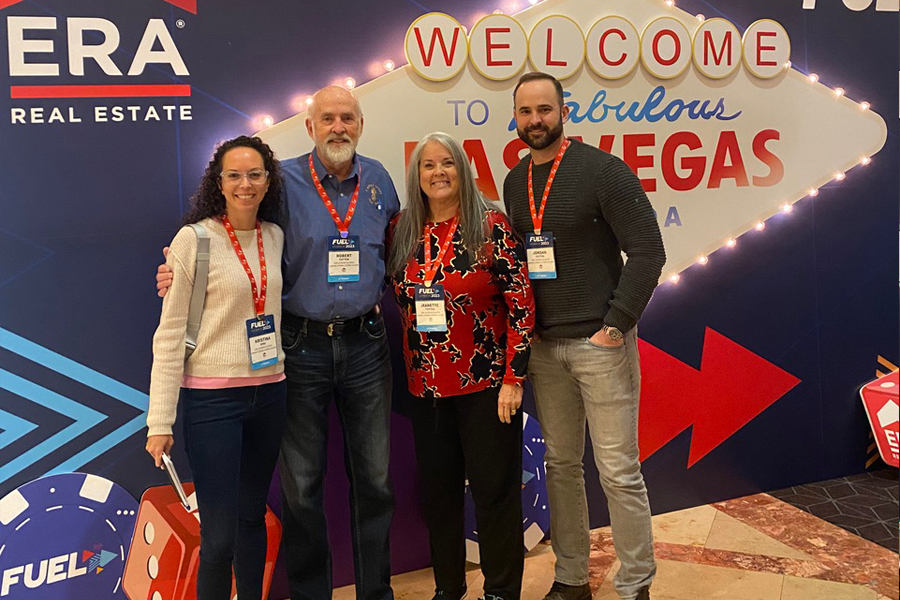 Always on the lookout for opportunities to keep stride with the latest industry trends, exchange ideas with other real estate professionals, and gain insights into best practices for leadership and success, ERA Cayman joined over a thousand international delegates who came together at the Fuel ERA 2023 Conference, held from March 28 to 30 at Caesar's Palace Convention Center in Las Vegas.
The ERA Fuel 2023 Conference is an annual event organized by the global franchising company, ERA Real Estate. The three-day convention typically features a myriad of activities that include talks by distinguished industry leaders, educational sessions and workshops, as well as social events and parties — all designed to help the attendees upgrade their skills, knowledge, and professional networks.
ERA Cayman was represented by its owners/ brokers, Robert and Jeanette Totten, along with agents Jordan Totten and Kristina King.
New ways of doing business
"There were dozens of breakout sessions (at the convention) and a lot of them were focused on the value of using social media as a marketing tool — especially for attracting younger buyers," shares Jeanette.
A real estate professional of over four decades, Jeanette added that the event also affirmed how constantly evolving technology, coupled with the successful experience of remote work during the pandemic, have irreversibly changed the way people perceive day-to-day business operations.
"Remote work is no longer an exigency measure. With so many tools available, many agents now prefer to work from home and traditional office spaces are now becoming smaller because of this," she points out.
In reference to this growing phenomenon, the convention dedicated several sessions on the effective utilization of tools developed by MoxiWorks, an industry-leading property management platform designed to help brokers and agents save time and drive more transactions while working from anywhere.
Staying up-to-date with industry developments
All throughout the three days, Fuel 2023 offered a diverse and comprehensive program for real estate professionals wishing to remain up-to-date with the latest trends and developments in the industry.
Introduced to the event this year was a new certification course on Distinctive Properties Luxury Essentials. Designed specifically for agents, this certification course involves learning the language of luxury, discovering how to break into this niche market, and exploring ways to provide the best white glove service to luxury clients.
Other topics discussed on the agents' track also included: online reputation management, shooting video for social media, identifying and selling into life events, improving listing presentation, best practices for building a team, breaking into the business of new constructions, strategies for lead generation, and analyzing data to own the narrative in their respective local markets, among several others.
Leaders as learners
Meanwhile, leaders were treated to their own track of learning experiences through leadership hubs, panel discussions, coaching conversations, a technology open house, focus group discussions, as well as breakout sessions that encouraged them to get together with their peers with the purpose of sharing best practices, discussing challenges in the real estate industry, and proposing solutions to common problems.
There were also leadership sessions on specialized topics such as spotting the red flags that can help them to proactively address the needs of their "at-risk" agents, sessions on recruitment, onboarding and training, a workshop on lead conversion, strategies in conducting sales meetings, and a two-part master class on conducting an M&A, from valuation to closing the deal.
As with previous years, Fuel 2023 was highlighted by the ERA Award Celebration, where top performers for the previous year were recognized. Prizes were given for different professional categories, along with special awards such as the Brenda Casserly Memorial Award, the Jim Jackson Award, the Distinctive Properties Sapphire Award, and the Hall of Fame.