Quiet, peaceful, unhurried, pastoral – West Bay has many charms that make residing here a country living experience. One of the first noticeable differences about West Bay is the number of large pastures and fields throughout the district. Traffic is light and…
…the district is large, so the total effect is that of a weekend country get-away with lots of space and quiet.
Then you'll notice that tucked into the various corners of this meandering district are all the essential services you need. West Bay is the only other district besides George Town that has a Vehicle Licensing Department and inspection station. In addition, a full grocery, pharmacy, bank, full service photography studio, two hardware stores, and warehouse shopping mean that all your weekend errands can be done close to home.
Seven Mile Beach begins in West Bay. But there are numerous other access points to the water including the turtle farm, Cobalt Coast, Morgan's Harbour and the under-appreciated Barkers Park. Barkers is a gem – a huge undeveloped natural area with miles of gravel road cut through the mangroves and casuarina trees and miles of beach popular with horse riders, dog walkers and kite surfers.
In spite of being country, West Bay has its share of good-eating restaurants. Osetra Bay, Morgan's Harbour Restaurant and Calypso Grill are to the east. The Cracked Conch is on the north. And Al Fresco and Timbuktu are on the west side of the district. Morgan's Harbour is a great place to watch moon rise and the west side is ideal for sunset. There's also fast food at the 4-way stop and numerous jerked chicken stands throughout. The fish shop at the head of Boggy Sand Road is a classic – a very simple menu of well-done fish and fritters at great prices in an authentic tiki bar style cottage. And don't miss the coconut bread at Mr. Bergman's Caribbean Bakery in Batabano – it makes the best toast in the world. And it's the only place on the island where you can get fresh whole wheat hamburger buns.
West Bay is a great example of small town living (affordable homes on large lots, light traffic, neighborly service at the post office and other businesses) with big city advantages (services, close to Camana Bay, upscale dining). And best of all, the beach is close in all directions.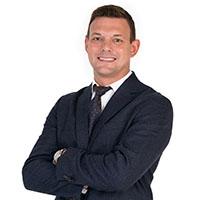 John has been working as an agent with ERA Cayman Islands for 8+ years specialising in high-end real estate, hospitality and property management. Formerly of Vail, Colorado; John has set down his roots in Grand Cayman. John holds a degree in business law from the University of Saint Thomas.